AUTO REPAIRS – Batteries and Charging Systems
You have questions about your vehicle's battery or alternator?
THE IMPORTANCE OF THE BATTERY AND THE ALTERNATOR
A vehicle uses a great deal of electricity to make the starter and other electrical components work. If the power came from a regular battery, it would be depleted very quickly.
Your vehicle's charging system keeps your battery charged. It also provides the required power to make the lights, radio and other electrical components work while the engine is running.

SIGNS OF POTENTIAL ISSUES WITH THE BATTERY AND THE CHARGING SYSTEM
The vehicle doesn't start.
The "Battery" warning light is on in the dashboard.
THE "BATTERY" WARNING LIGHT
When this light is on, it means that the vehicle is running on battery power only. It's normal that it turns on and off when starting and cutting the engine as it is part of the vehicle's self-diagnostics. However, if the light stays on, that means the electrical charging system no longer works correctly.
If the problem continues and your charging system breaks down, the battery can no longer be recharged, and the car will soon stop. Note that, depending on your vehicle, your dashboard will have either a light shaped as a battery or one with the words "Charging system." Refer to your owner's manual to find out which charging system light your vehicle has.
LEARN MORE ABOUT THE CHARGING SYSTEM
THE MAIN COMPONENTS OF THE CHARGING SYSTEM
Alternator
Battery
Wiring
Electronic control unit (ECU)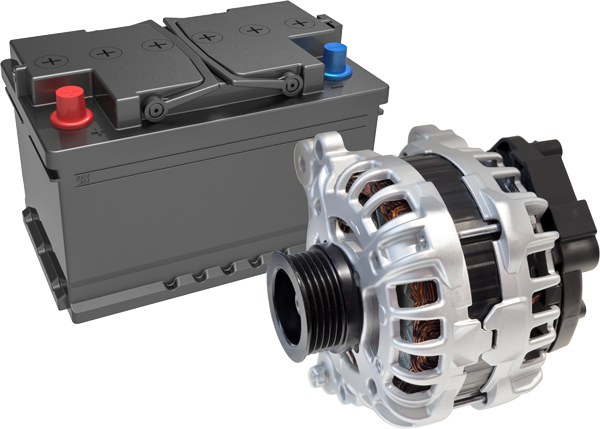 HOW DO WE KNOW IF THE BATTERY IS STILL GOOD?
The state of the battery's electrodes determines whether it is still in good working order. The reaction between the sulfuric acid in the battery and the lead in the electrodes produces the electric current. When the battery is drained, the electrodes become coated with sulfate, weakening the battery's capacity to produce the electrical current. Inversely, when the alternator recharges the battery and forces the current to run in the opposite direction, the sulphate is re-dissolved.
A certain amount of sulfate will accumulate on the electrodes over time and create a barrier that weakens the battery's capacity to create and store electricity. This process occurs more quickly when the battery is frequently drained or remains drained over many days. A battery whose electrodes are significantly sulfated must be replaced.
A battery lasts from 4 to 5 years on average under favourable conditions. In very hot environments, it may even last only up to 2 or 3 years. A battery may also become prematurely sulfated if it is systematically under-charged (because of charging problems or frequent short uses) or if its water levels are below the plates (because of high temperatures or over-charging) thereby causing the plates to dry out.
Don't ruin your day with an automobile breakdown!
If the battery or charging system lights come on, bring your vehicle to your trusted mechanic to find the source of the problem.