TRAILER HITCHES – Fifth wheel coupling
Our experienced team is there for you!
FIFTH WHEEL COUPLING—FOR YOUR HEAVY-DUTY WORK!
A fifth wheel coupling is a heavy-duty mechanism used to link a trailer to a towing truck, tractor or dolly. You have probably seen fifth wheel couplings installed in the beds of pickup trucks that tow large campers.
The term "fifth wheel" comes from a similar coupling device used on four-wheel horse-drawn carriages and wagons. This device allowed the front axle assembly of the carriage to pivot horizontally and so facilitate turns.
This towing system consists of a coupling or king pin on the front of the trailer and a horseshoe-shaped coupling device, called a fifth wheel that is mounted on the rear of the towing vehicle.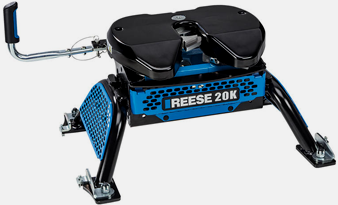 MAIN FEATURES OF FIFTH WHEEL COUPLINGS
Gross trailer weight (GTW): up to 24,000 lb
Point of attachment: bed of pickup truck
Tow vehicles: pickup trucks only
At Autotech Performance, we can help you select a fifth wheel coupling that meets your needs.
And we'll install it safely and in compliance with the law. For loads up to 25,000 lb, we can also install a Gooseneck-type towing system.