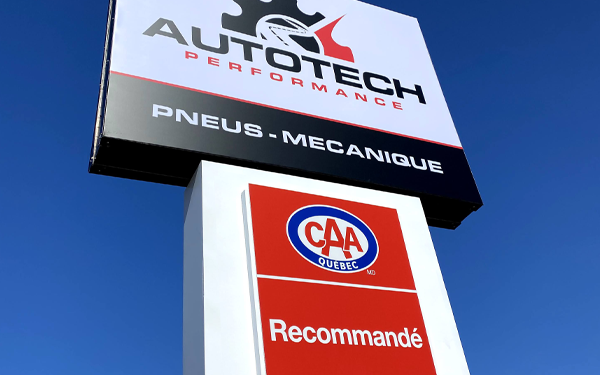 Do you live in Montreal and are looking for a new auto repair shop in Montreal's West Island? If so, you may have asked yourself: Is it better to choose a CAA garage?
In a word: yes!
But why exactly?
Let us explain. When you have a mechanical problem with your vehicle, there is only one thing to do: go to a garage. With a network of over 350 locations, CAA garages are the best option. In fact, did you know that in order to be certified CAA Quebec, a garage must meet a number of rigorous criteria? That's how recommended dealerships, body shops and specialists offer excellent services. And it is this assurance that our garage also offers you!
Mechanics approved by the best brand on the market: CAA Quebec Auto Repair Shops
However, there are many other options among garages. Why not go to the nearest independent garage? To the auto mechanic shop you've heard so much about? Or to a CAA Quebec garage? In reality, the questions you should ask yourself are quite different. In fact, you should ask yourself if the mechanics have received recognized training in the field. Do you know the references? Have you looked at the customer reviews? Is the estimate they provide adequate for you?
CAA Quebec Auto Repair Shop: State-of-the-art equipment and financial benefits
All these questions and many more, you can answer them positively by turning to a CAA Quebec garage. It is indeed a CAA network garage that will be able to offer you the best quality. In addition to guarantees and financial advantages in the form of discounts on repairs, they are adapted to each model. The staff working in this car repair garage will meet your expectations thanks to the state-of-the-art equipment in place.
Your CAA Quebec Auto Repair Shop are Eco-responsible and quality verified by "mystery customers
At the same time, we can think about ecology? CAA Quebec garages have responsible practices. In fact, this is one of the prerogatives of the Green Key program, for increased management of residual and harmful materials. Nothing tells you that other independent garages are also committed to this… Surprisingly, did you know that CAA garages like ours are regularly visited by mystery shoppers? This is how the network always ensures that the services provided by the garages are in good shape.
Most CAA Quebec Auto Repair Shops offer OEM products (Original Equipment Manufacturer)
As far as the products sold are concerned, CAA batteries are among the most efficient and the most qualitative. So, if you find that your battery seems to be exhausted, do not hesitate to have it tested in our garage. We would also like to add that CAA Quebec's automotive consulting services will meet all your needs, even the most demanding.
Still hesitating? We give you one last good reason to choose an auto mechanic garage like ours. Some customers are unhappy when they receive services from independent garages. But who can they complain to? You can always leave a scathing comment on the net, but that doesn't change the fact. On the contrary, our CAA garage our CAA repair shop is in constant contact with a conciliation service. So you can feel good about choosing a CAA QUebec repair shop like ours, because you know you're making the right choice! To book your vehicle's inspection by Autotech Performance's experts,  make a reservation online here.