Fifth Wheel Coupling – for heavy loads!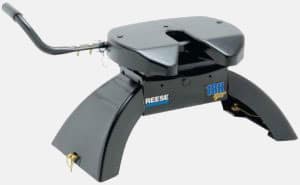 A fifth wheel is a heavy duty coupling that is used to link a trailer to a towing truck, tractor or dolly. For instance, you have probably seen fifth wheel couplings installed in the beds of pickup trucks that tow large campers.
The term "fifth wheel" comes from a similar coupling used on four-wheel horse-drawn carriages and wagons. The device allowed the front axle assembly of the carriage to pivot in the horizontal plane in order to facilitate turns.
This towing system consists of a coupling pin (king pin) on the front of the trailer and a horseshoe-shaped coupling device, called a fifth wheel that is mounted on the rear of the towing vehicle. Fifth wheels are often equipped with a ball-bearing of rotary type, which explains why they are sometimes referred to as "turn tables" (as it is the case in Australia and New Zealand).
Main features of fifth wheel coupling
Gross Trailer Weight (GTW): up to 24000 lbs
Point of attachment: bed of pickup truck
Tow vehicles: pickup trucks only
At Autotech Performance, we can help you select a fifth wheel coupling that answers your needs and we can install it safely and in conformity with the law. For loads up to 25000 lbs, we can also install a "Gooseneck" towing system.
(Excerpts from Wikipedia)