The best Auto Repairs in Montreal West Island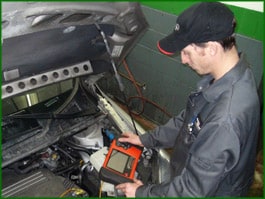 At Autotech Performance, our certified technicians are experts in identifying mechanical, electrical and electronical troubles that may appear in your car. They make a precise diagnostic of the problems and make the required repairs efficiently.
At our Montreal West Island Garage, we use the latest technology equipment available and install high quality auto parts of renown brands.
We offer you a complete service of high quality auto repairs for your car or truck at a competitive price and we make sure that you are satisfied!
Nowadays, most systems that make up your vehicle are complex entities that need to be looked at and fixed by professional auto mechanics. At Autotech Performance, we repair all mechanical, electrical and electronic systems.
As a vehicle owner, you may be interested in finding out how your car's various systems do work in order to understand better what type of repairs your vehicle might need.
Have a look at the main systems described in this section! Whether it is the Braking, Fuel Injection, Air Conditioning or any other system, you will find valuable information that can help you optimize your vehicle's performance. We have also listed the most common "signs of troubles" that can affect each system in order to help you prevent serious damages.