Large Selection of Tires in Montreal West Island
The choice of the right tire for your car is critical with regard to your safety and comfort on the road in all seasons.
At Autotech Performance, we help you choose the right tires for your car. We have access to a wide selection of quality tires from several tire manufacturers of renown – among others, Michelin, Continental, Yokohama, Toyo. We can guide you in your choice taking into account your budget, your tastes, your vehicle and the use you make of it.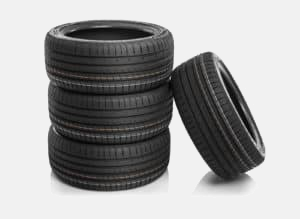 We sell, install and repair tires for all types of cars, pick up trucks and light trucks. Our price are competitive and we even offer you a tire storage space for your out of season tires.
At first glance, all tires look the same! They are black, circular, more or less wide with a more or less deep trace according to whether they are conceived for winter conditions or not. However, if we have a closer look, we notice that the main features of each tire are written on its side.  It is when we know how to decode this information that we realize that all tires are not so much  alike!
Even though these descriptive codes are inscribed on all tires and can guide your choice, the number of tires to choose from remains large. That is when Autotech Performance can make sure that you get the best tires for your vehicle.