North America's Trailer Hitch Classes
In North America, trailer hitches are categorized into five classes, each one corresponding to a specific trailer weight range. You must make sure to select a hitch with a weight rating greater than the "loaded weight" of your trailer. You must also take into account your vehicle's specific towing capacity in terms of weight and types of attachments.  This often dictates the class of hitches from which you must choose. You may also consider your future needs in terms of towing capacity: it might be best to select a hitch from a higher class now that will allow you to pull heavier loads later!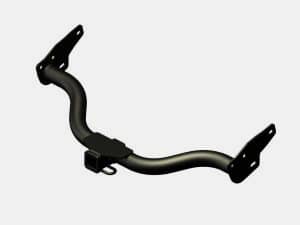 As you start looking for a trailer hitch, you must at least be able to provide the following information:
Your vehicle's year, make, model and maximum towing capacity – this information should be available in your the owner's manual;
Your trailer's type, coupler size, tongue weight and gross weigh.
Trailer hitches can be of two types. First, a weight-carrying (WC) or "deadweight" hitch is a basic trailer hitch that uses a simple ball-and-tongue arrangement to connect the trailer to the tow vehicle. It is typically intended for light loads. Second, a weight-distributing (WD) or "equalizing" hitch has an attachment that slides into the receiver to redistribute the weight on the tongue. The hitch usually includes two spring bars, one on each side of the trailer, that apply leverage on the towing vehicle and lift it in order to redistribute the weight from its rear axle to its front axle and improve stability. Such a hitch is designed for heavy loads.
Note also that modifications to your vehicle, such as the installation of stiffer springs, air springs, air-assisted shocks, larger sway bars, etc., may allow you to tow large loads in a more efficient and safer manner.
Classes of hitches as defined used in North America
The values provided below offer an overall characterization of each class in order to guide your choice. However, when you actually buy a trailer hitch, you must always take into account all the specificities related to the selected products and provided at the time of purchase.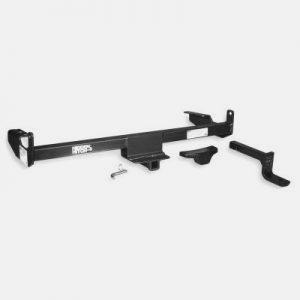 Class I
– to tow light loads such as small trailers, motorcycles, snowmobiles
Type of hitch: weight-carrying (WC)
Gross Trailer Weight (GTW): up to 2000 lbs
Maximum Trailer Tongue Weight (TW): up to 200 lbs
Point of attachment: frame, bumper of tow vehicle
Rating of attached drawbar or hitch ball: equal to or higher than Class I
Square opening of receiver-type hitch: 1.25" (32mm)
Tow vehicles: all types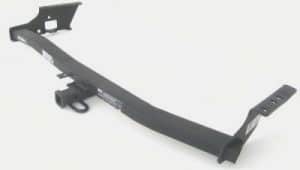 Class II –to tow relatively light loads such as small boats, camping trailers
Type of hitch: weight-carrying (WC)
Gross Trailer Weight (GTW): up to 3500 lbs
Maximum Trailer Tongue Weight (TW): up to 350 lbs
Point of attachment: frame, bumper of tow vehicle
Rating of attached drawbar or hitch ball: equal to or higher than Class II
Square opening of receiver-type hitch: 1.25" (32mm)
Tow vehicles: mid-size cars, trucks, vans, SUVs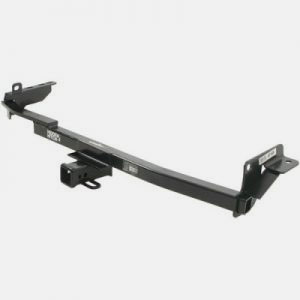 Class III – to tow large loads such as caravans, inboard boats
Type of hitch: weight-carrying (WC) and/or weight-distributing (WD)
Gross Trailer Weight (GTW): up to 3500 or 5000 lbs for WC – up to 5000 or 10000 lbs for WD – depending on the make of the vehicle
Maximum Trailer Tongue Weight (TW): up to 350 or 500 lbs for WC – up to 500 or 1000 lbs for WD – depending on the make of the vehicle
Point of attachment: frame of tow vehicle
Rating of attached drawbar or hitch ball: equal to or higher than Class III
Square opening of receiver-type hitch: 2" (51mm)
Tow vehicles: mid-size cars, pickup trucks, minivans, SUVs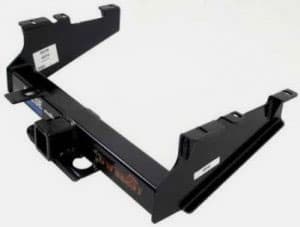 Classe IV – to tow heavier loads such as larger boats, caravans
Type of hitch: weight-carrying (WC) and/or weight-distributing (WD)
Gross Trailer Weight (GTW): up to 12000 lbs for WC – up to 15000 lbs for WD
Maximum Trailer Tongue Weight (TW): up to 1200 lbs for WC – up to 1500 lbs for WD
Point of attachment: frame of tow vehicle
Rating of attached drawbar or hitch ball: equal to or higher than Class IV
Square opening of receiver-type hitch: 2" (51mm) or 2,5" (64mm)
Tow vehicles: full-size cars, pickup trucks, vans, SUVs
Classe V – to tow even heavier loads such as even larger boats, caravans
Type of hitch: weight-carrying (WC) and/or weight-distributing (WD)
Gross Trailer Weight (GTW): up to 13000 lbs for WC – up to 17000 lbs for WD
Maximum Trailer Tongue Weight (TW): up to 1300 lbs for WC – up to 1700 lbs for WD
Point of attachment: frame of tow vehicle
Rating of attached drawbar or hitch ball: equal to or higher than Class V
Square opening of receiver-type hitch: 2" (51mm) or 2,5" (64mm)
Tow vehicles: pickup trucks only