trailer hitch online price inquiry
WIDE CHOICE OF TRAILER HITCHES IN MONTREAL WEST ISLAND
At Autotech Performance, we have the right trailer hitch for you, whether it is for your work or for a vacation!
How to buy a trailer hitch in 4 easy steps!
Before you start looking to buy a trailer hitch, you need to gather the following information. 1 – Information about your vehicle The information below are usually available from the vehicle owner's manual.
Year (ex: 2010, 2011,…)
Make (ex: Honda, Toyota,…)
Model (ex: Civic, Accord,…)
Option (ex: ST, Sedan,…)
Maximum towing capacity – How heavy a load can your vehicle tow?
2 – Information about the trailer and/or the number of bicycles to be carried The table below helps you determine which type of hitch you need.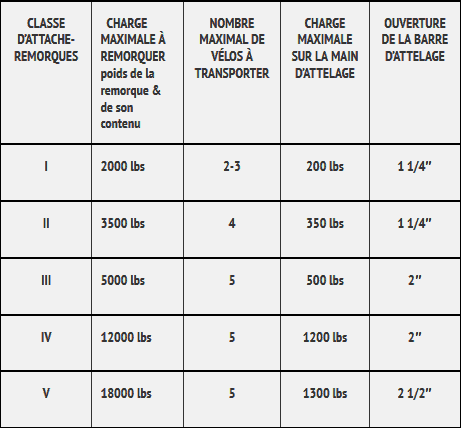 Learn more about the characteristics of the five trailer hitch classes as defined in North America. 3 – Size of the hitch ball – only if you want to tow a trailer You must make sure that the size of the hitch ball you are buying fits the tongue of the trailler you will use. The hitch ball can be of the following sizes according to the load to be towed:
1 7/8″ – maximum load of 2000 lbs
2″ – maximum load of 3500 to 7500 lbs
2 5/16″ – maximum load of 6000 to 20000 lbs
4 – Type of electrical wiring – only if you want to tow a trailer It is essential to know which type of wiring fits your trailer. The choice of the electrical wiring is determined by the size and type of trailer you will be towing: a standard size trailer (4′ x 8′), a caravan, a boat trailer, a large capacity trailer, etc. Note: Keep in mind that it could be pertinent to consider your future needs in terms of towing capacity: even though you currently need to tow a small trailer, you may soon want to pull a boat or a camper! It might be best to select a hitch from a higher class!
You can trust us!
We specialize in the sale and installation of trailer hitches. We can help you choose the right towing system taking into account your vehicle, your trailer and your budget. We keep a large inventory of parts (receiver-type hitches, hitch balls, ball mounts, etc.) from renown brands – among others, Reese Hitch, Hidden Hitch, Curt and Draw-Tite – for all types and sizes of vehicles and trailers. Don't hesitate to contact us! We will make sure that your towing system is safely installed, in conformity with the law. Just make an appointment online! Our garage is recommended by  CAA Quebec.