An oil change is probably the most important maintenance service your engine needs. Petroleum-based motor oil manufacturers generally recommend changing the oil and the filter every 5000 km – or every 3 to 6 months – for maximum protection regardless of the type of driving you do.
For most gas engine passenger cars and light trucks, any type of oil that meets the American Petroleum Institute's SJ rating can be used. However, at Autotech Performance, we always recommend using the type of oil that is specified by the manufacturer in the vehicle owner's manual.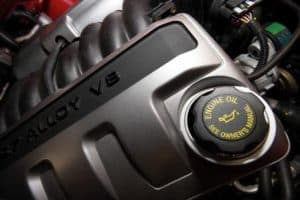 Nowadays, most new engines require a multiviscosity oil (5W-30 or 5W-20) for all round driving.  Lighter 5W-30 and 5W-20 oils contain friction reducing additives that contribute to fuel efficiency – and economy. These additives allow the oil to quickly reach critical upper valve train components when first starting a cold engine. As most engine wear occurs immediately after a cold start, the oil must be thin enough to circulate easily, especially in cold weather.
Synthetic oils are best to provide ultimate high temperature protection, durability and overall performance. Unfortunately, most synthetic oils cost up to three times more than ordinary petroleum-based oils because they are manmade rather than refined from petroleum. It remains that synthetic oils improve performance in virtually every aspect:
Superior resistance to high temperature
Better performance at low temperature
Better engine performance
Longer* intervals between oil changes (up to 8000 km)
Synthetics oils are available in the same grades as petroleum-based motor oil:
"Ordinary" oil 5W-30, 5W-20, 5W-40 and 10W-30
"Extended" oil 15W-50 and 5W-50.
*CAUTION: For vehicles under warranty, it is not recommended to extend the normal oil change interval since failing to follow the Original Equipment Manufacturing's maintenance schedule can void the warranty.