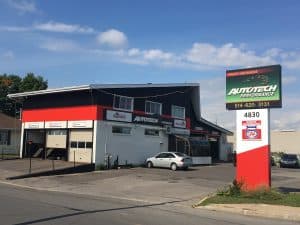 Autotech Performance
4830, boul. Saint-Charles
Pierrefonds (Québec) H9H 3E1
Opening Hours
Mon – Fri: 8 AM – 6 PM

Telephone
514-620-3131
Fax
514-620-8441
You are looking for an Auto Repair Shop in Montreal West Island?
Autotech Performance is proud to serve a large clientele form Montreal West Island, including Pierrefonds, Kirkland, Ile Bizard, DDO and Beaconsfield for all needs in auto maintenance and car repairs.
The mission at our Pierrefonds auto repair shop is to offer our customers quality services in general mechanics and auto repair at competitive prices. Moreover, as a CAA Québec and Clé Verte certified auto repair shop, we guarantee a professional job and a most courteous service. Make an appointment now!
From Preventive Maintenance to Auto Repair, we take care of everything!
Thanks to our multidisciplinary team, you will find a large array of service at our auto repair shop: oil change, wheel alignment, change of tires, electronic diagnostics, power steering, brakes etc. We also have a large selection of tires and trailer hitches that we install as well. We use ste-of-the-art equipment : satisfaction guaranteed! Our experienced mechanics are eager to serve you. Come and see us at our Pierrefonds garage. You can also contact us by phone at 514-620-3131 or leave us a message.